Dusk is falling. The streets are getting empty. Only a few figures slip through the concrete maze. In the distance, you can hear the last murmurs of the day. The city is falling asleep…
***
'Waiting for Dawn' is a night walk through non-existent housing estates. The walk through the concrete maze of shapes and shadows.
The night cityscape allowed me to focus on the main character of the series - concrete and its beauty. You can soak up its monumental nature and power until the sun rises. (Haha, I can already hear the disbelief of most of you)
'Waiting for Dawn' is a project that I have been thinking about and preparing for several months. New possibilities and a simple path to its implementation were opened by a gift I received for Christmas - a wonderful book 'Brutal Poland' designed and published by Zupagrafika (www.zupagrafika.com).

The paper models included in the book helped me create an abstract world (scale and design rules are not important here) that I had been dreaming about for a long time.
Travelling without moving…
Also, strangely enough, this extremely depressing time (the whole last year) triggered my dormant creativity for a while. For how long? I don't know … but I'm trying to make the best of this moment.
In a way, it cleared my mind and helped me express myself.
Please follow this link (Waiting for Dawn) to see the entire series created so far.
This is another story that I can personally relate to on several levels:

- fascination with the 60-70s concrete architecture
- professional and personal experiences
- beautiful memories from my youth
All this is presented in the preferred by me aesthetics - dark, black and white photography.
Also, I have made everything with the equipment I always use for personal projects - analogue camera and negative film.
This time it was Intrepid 4x5 camera with and 6x7 roll film back. Purchased recently fresnel screen was extremely helpful, especially in such lighting condition. I decided to use Ilford Ortho Plus 80 due to its amazing sharpness and mentioned by me many times, dynamic range.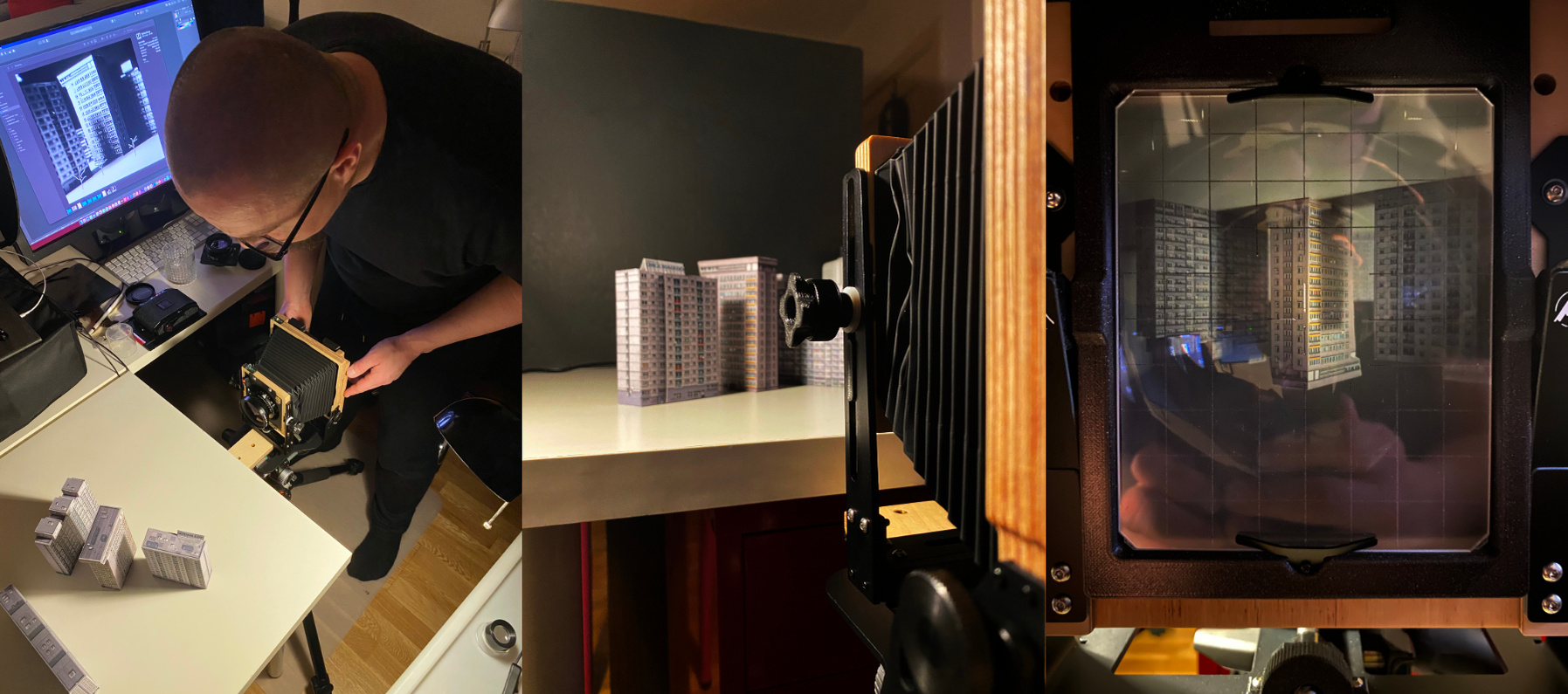 I want to continue this project and create new imaginary views using available models. That's the plan.

At the same time, a vision of something more abstract arises in my head … but more on that later.
Thank you!