There are places that you can't always enter, let alone photograph. Places that are often fascinating and full of magic. This fascination can be based on various premises. In my case, it is the form of the subject, its purpose and historical aspect.
Industrial facilities right after modernist architecture are my favourite topics to photograph.
The expressiveness, raw materials, hardness of the form, and sometimes even its alienation, are phenomenal.
Exactly ten years ago, I was on a fantastic course at NCAD, PDI. Back then as a student. Since a few years, I am delighted to be one of the tutors.
While preparing for the project in the first module, I photographed abandoned buildings in and around Dublin.
I visited the Baths in Dun Laoghaire and Blackrock and the Piegon House former power plant. This last place made a huge impression on me, and it was the most challenging object due to access.
I did it. I made a series of photographs that even today look interesting to me, despite the rush in which I took them.
I devoted two posts to them on the old blog - one in 2010 (HERE) and the other in 2014 (HERE).
Walking around the Pigeon House and its surroundings, I was staring at the nearby Polbeg power plant.
From that moment, I knew that one day I will get closer to it with the camera.
Unexpectedly, this situation took place a few years later, in 2016.
It was a beautiful summer afternoon.
This time, however, it was a fully official visit in the company of one of the power plant employees.
I could photograph the fascinating (for me) Poolbeg power plant with famous chimneys and the new power plant currently operating.
He also explained in details how exactly the process of obtaining energy looks like (now and then) and he gave other interesting information related to it.
Wonderful trip!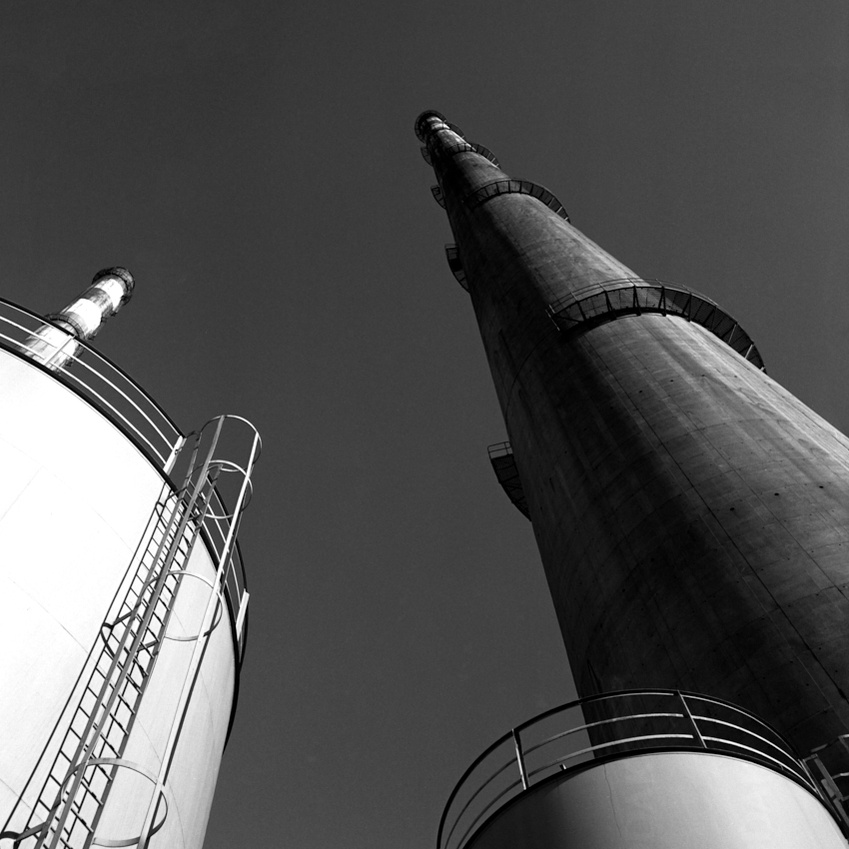 A few dates…

Pigeon House (1903), previously military barracks, the first power station on Poolbeg Penisula was decommissioned in 1973. It was also the first in the world station generating three-phase power.
The new Poolbeg power plant, still locally called Pigeon House, was built in two phases in 1971-78 and decommissioned in 2010.
Over the years its two chimneys, one of the tallest structure in Ireland (207.8m and 207.4m), became unquestionable Dublin's landmark, being featured in many photographs, films or short videos, such as the famous 'Pride' U2 and not only.
They are visible almost from every place in Dublin.
Here is the LINK to a very interesting documentary from ESB archives about the construction of the plant.
The current, combined-cycle station (combined gas cycle technology) was built in the 1990s and is being gradually modernized.
That's it for now.

Don't forget please to check included above links to old posts on my old blog with photographs of Pigeon House. It gives an idea of overall progress.
In the end, HERE is one more link to another old blog post and photographs made around the plant in 2012 along with a strange story I experienced back then.
Thank you for taking the time to read this post!